The Laurels of Worthington Staff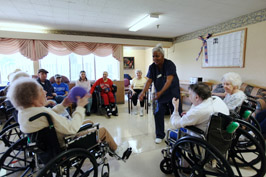 What differentiates one skilled nursing & rehabilitation center from another? The answer is... the people who work and reside there! The people set the tone, the atmosphere, and the expectations. At The Laurels of Worthington, we take great pride in ensuring that everyone feels like part of our family, and that they are treated as special "guests" in our home.
The Laurels of Worthington employs a team of highly qualified medical professionals, including a Medical Director, Registered Nurses, Restorative Care Nurses, a Wound Care Nurse, state tested Certified Nursing Assistants, Physical Therapists, Occupational Therapists, and a Speech Therapist. Our on-site Rehab, Dietary, Social Work, and Activities departments provide personalized and compassionate care to each guest. From the moment you walk through the front doors, the warmth and caring of the staff will begin to gain your trust and confidence, as they strive to exceed your expectations.
Unlike other facilities that use "contracted" staff members, each member of the team at The Laurels of Worthington is directly employed, not "contracted". Each Team Member takes great pride in portraying "The Laurel Way of Caring", as they strive for excellence in providing only the highest standard of care and services to every guest, and to every family member and visitor. Come on in! Visit a while! Let us show you our very best... let us show you The Laurel Way.
Jessica Kline, LNHA, Administrator
Jessica is an alumna from Ohio University, Scripps College of Communication, where she earned her Bachelor of Science Degree. Jessica majored in Organizational Communication with areas of concentration in Advertising, Public Relations and Management. She initially began her career in healthcare in the hospital industry, working for Cleveland Clinic. After residing in Cleveland for several years, she relocated to Columbus and transitioned into the skilled nursing industry.

Jessica joined Laurel Health Care Company in 2010 as a Director of Marketing and Admissions. She completed her Administrator in Training program in 2014 at The Laurels of Norworth and later became the Administrator at The Laurels of Canton. In 2016, she relocated back to Columbus to join the team at The Laurels of Worthington. Jessica served as a Board Member at Cornerstone of Hope from 2011 to 2016, volunteered at Faith Mission Community Kitchen from 2010 to 2015 and was a member of Healthcare Marketing Network Organization from 2009 to 2014. Jessica has been involved with several other community organizations in Athens, Cleveland, Columbus and her hometown, Norwalk, Ohio.
Christinia George, RN, Director of Nursing
Christinia George, RN has worked in long-term care since 2004. She began her career as a State Tested Nursing Assistant and gradually worked her way up to a Licensed Practical Nurse and eventually a Registered Nurse. She has worked in many capacities, a few of those including: Wound Nurse, Unit Manager and Assistant Director of Nursing. Ms. George is a very detail-oriented nurse manager who has extra focus on improving Quality Assurance and providing the best care possible. Customer service is extremely important to her. Ms. George believes that we serve our Guests (residents) in their home and they should be treated with the utmost respect. Ms. George is excited to be a part of the team at The Laurels of Worthington. "Teamwork makes the dream work."
Abby Dodds, Director of Marketing
In 2009, Abby graduated from the Ohio University College of Health and Human Services in Athens, Ohio. Abby has a Bachelor's Degree in Long-Term Health Care Administration and Health Service Administration along with a minor in Business and Marketing. As part of her course work at Ohio University, Abby completed the AIT program at the Laurels of Worthington which eventually led her to the position of Activities Director. Abby spent seven years as the Activities Director and enjoyed the relationships she has built with the Guests and families at The Laurels of Worthington. Abby is excited to take on the role as the Director of Marketing where she can continue to build strong and lasting relationships with the Worthington Community. Abby has lived in the Columbus area for the past eight years and in her free time enjoys traveling, sports and spending time with her family.
Cindy Smith, Rehabilitation Services Director
Cindy Smith has been the Rehabilitation Services Director at The Laurels of Worthington since the Fall of 2008. She has been certified by the Occupational Therapy board since 1975. Cindy has specialized in skilled care for 18 years and her previous experience was in acute care therapy for 15 years. Cindy also has a Degree in Human Resources and has been with The Laurels of Worthington since 2006.