The Laurels of Worthington - A Skilled Nursing & Rehabilitation Center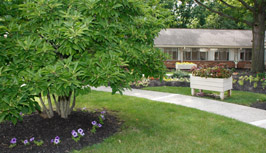 Located just north of historic downtown Worthington, Ohio, The Laurels of Worthington is a 100-bed skilled nursing and rehabilitation center offering a friendly, comfortable living environment and some of the most comprehensive health care programs in greater Columbus.
We tailor our short-term respite, rehabilitation, and hospice care to the specific needs of each individual. We fashion a unique care plan for each rehab guest that speeds the journey from hospital to home.
The Laurels of Worthington is widely known for the long-term care and rehab we offer guests in our secured Memory Care Unit. Our team of professionals is specially trained to work with people who have Alzheimer's disease and other types of dementia. We offer 12 hours of programming each day, and we continually train our staff to maximize each guest's potential.
We also offer a lively and interesting home for the remainder of our extended-stay guests. Activities, community outings, events, and birthday and holiday celebrations that include families keep these guests feeling connected to their community, friends, and families.
It's easy for the staff of The Laurels of Worthington to meet many kinds of needs because a single guiding philosophy, The Laurel Way of Caring, underlies all our work. This unique approach to care dictates that you'll be offered the respect, dignity, compassion, and companionship you deserve each and every day.